SEARCH ENGINE OPTIMIZATION SERVICES
Rank Higher for Targeted Keywords
Get more out of your website than just a web presence. We attract more targeted traffic to your website to increase customers, leads and growth.
Gone are the days of easy SEO strategies to rank high and fast in Google. SEO is now a process and a patience game along with many ranking factors. We believe there are 3 mission-critical components that all work together for high-ranking success. Once these are optimized properly and active, they'll have a huge impact on your organic  and Local SEO rankings. 
How long does our SEO process take? We focus on producing increased traffic and rankings in approximately  8 weeks for 8-12 page websites and 12-14 weeks for larger or ecommerce websites. Our process involves discovery/research, planning, implementation, analysis and reporting.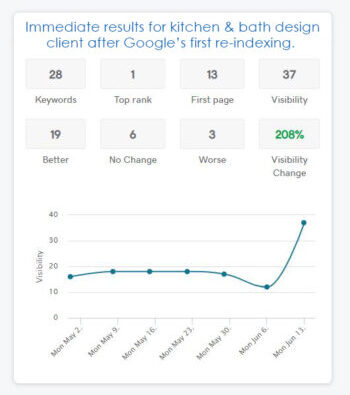 Our search engine optimization service includes three key levers:
It takes more than targeted keywords and a properly optimized website to rank high in Google. High quality content and a well-optimized AND managed Google Business Profile will influence your organic and Google Local Pack rankings:
Content Consulting and Creation
We revise and improve your website's content. Content is the first priority when it comes to SEO. Google and other major search engines want to show the best and most up-to-date information possible. We analyze your content to make sure it's relevant, useful, accurate, easy to understand and engaging.  We also uncover opportunities to add more content such as blog articles, calls to action and more.
Search Engine Optimization
We start with an SEO audit of your website. This is where we uncover issues related to crawlability, content, links and coding.  We move on to competitive research, keyword research and integration and on-page optimization.  We also perform schema markup to increase your website's visibility on SERPs and boost your click-through rates.  A ranking report is done before work commences and also after pages are re-submitted to Google.
Google Business Profile (Local SEO)
We enhance your Google Business Profile for increased visibility in Google search and Google Maps. We also make sure that your profile is accurate.  Why? A well-optimized and up to date Google Business Profile helps Google understand more about your business.  Your profile also influences your local SEO and local search rankings and local visibility. A Google Business Profile is as important as your website, and it should mirror your website!  For that reason, we add photos of your products and/or services, optimized descriptions of your services and more.  We also offer monthly management and reporting for long-term success of Google Business Profiles.  >> Learn more about why having an updated GMB profile is the key for local search engine optimization.
SEO is not a one-time effort. It requires continuous attention as things change – from search engine algorithms to the rise of competition and more.   Therefore, a monthly SEO maintenance plan is highly recommended.
Why Insite Media Design?
At Insite Media Design, we don't outsource your SEO project. With over 15 years of experience with organic, on-site and off-site optimization techniques, we complete the tasks and strategies that are crucial to turning your visitors into paying customers. Not only do we understand the importance of high-quality content (which Google loves), we also keep up with Google's core ranking algorithm updates to keep your website protected from over-optimization and penalization.
So, What is the Cost?
Every client's needs are unique and no two projects are the same. The cost of your project will depend largely on a number of factors such as the nature of your business, your audience, and more. Please call us at 508-685-9042 or email us to inquire about SEO services.
Monthly SEO Maintenance Service
Search engines algorithms change, your competition may decide to hire a search engine marketing firm and as a result your rankings will shift. Simply put, if you want to continue to maintain your top ranking positions, you have to continue optimizing. Your competitors will. We have a monthly SEO maintenance program to maintain and increase your rankings. This is done 30 days after our Search Engine Optimization Package, This includes increasing inbound links, targeting new keywords, tweeking current metatags and keywords, improve existing content and providing you with a monthly comparitive ranking report. Also we may make recommendations and advice on additional content that may be needed.
Monthly Fee: Inquire
* Up to 10 Keyword Phrases; Thereafter, $50 for each additional keyword phrase.
6 month minimum contract.