Professional Web Design + WordPress Websites
Fast Loading, Easy to Navigate and Fully Responsive Websites
When you hire Insite Media Design as your web designer you get more than a website presence. Our websites are not only professionally designed, they are agile, seo optimized, and pixel perfect across all devices – and they convert visitors into customers.
We're a professional web design company on Cape Cod with 20+ years of web development and website maintenance experience that dates back to 1999. We're also WordPress lovers, however, we work with any website platform and many website builders including Elementor and Divi. We're proud of our professional website design portfolio and humbled by our 20+ five-star Google Reviews.
Many website companies can craft a great looking website that's beautiful and user-friendly. But does the website convert visitors into customers? Does it look pixel-perfect across all devices? Does it load fast? Is the code error-free and meet Google's requirements for high rank results? Are its visitors safe and secure? Lastly, is it an accessible website so that visitors with a wide array of disabilities can use it too? We implement all the key elements for a successful website.
Why Partner with Us for Web Design Services?
There are many website companies on Cape Cod, Plymouth and the surrounding area for you to choose from. Apart from great customer service, reliability and creativity, we know how to make a website convert visitors into customers – whether it's a landing page, one-page website, simple brochure website or a complex ecommerce website.
We also implement the important key elements needed for a website to be successful.  Here's the thing – it takes MORE than an awesome looking and user-friendly website to result in leads and sales. Your website's front-end and back-end BOTH must meet the needs of your website visitors AND Google to be successful.
We make sure that all the below elements are in place, whether you hire us to create a new website or modify your current one:
1. Responsive (Pixel-perfect across all devises)
2. Fast Loading
3. SEO-friendly structure
4. Secure and Malware-free
5. Optimal Performance
6. Error-free code
7. Clear Calls to Action
8. Purposeful Visuals
9. Optimized and Well-written Content
10. Google Analytics
11. Google Search Console
Once your website is finished, we remain your partner and we're here to offer suggestions and tips to help your business succeed online.
Our Web Design Portfolio
sophisticated, agile and uncomplicated web design that works
John F. Kennedy Museum Hyannis
The John F. Kennedy Hyannis Museum's responsive WordPress website is not only packed with Kennedy family member information and videos, it also includes an event ticketing system, an online store, donation system and custom graphics.
Insite Media Design took our website to the next level, truly exceeding our expectations. Our website was in need of an upgrade that would be impactful for the thousands of visitors we have from all over the world.  Darlene made sure that the mobile presence of the website was equally compelling. The enhanced functionality and layout clearly put our museum in a best in breed standing.
– John Allen, President, John F. Kennedy Hyannis Museum
Cape Cod Collaborative
Darlene Billmair and Insite Media Design literally rescued us, after we were abandoned mid-construction by our original website builder. Not only was our website up and running quickly, the design had been improved three hundred percent. We continue to use Insite Media Design for our website maintenance and updates. They are immediately responsive and reliable. I recommend them highly.
– Chris Bogden, Director of Special Projects, Cape Cod Collaborative
We're WordPress Lovers!
IMD started back when websites were built with HTML and the website layout was created from scratch in Photoshop. Our Lead Designer, Darlene Billmair, created websites with hand-coding back in 1998!
Now, like most website companies, we create WordPress websites. We use WordPress themes as a starting point and we customize them. We create custom graphics in photoshop so that your website's look and feel matches your brand and your marketing materials.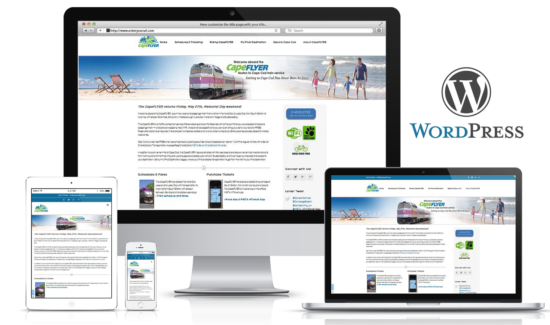 Our WordPress Services
Whether you want to change to a new WordPress theme, need WordPress support, or want to WordPress website secure from hackers, we can handle all of your WordPress website needs. Need some additional functionality for your WordPress website? We're experienced with third party plugins. We also can add Live Chat, ecommerce, blogs, video integration, dynamic slideshows, event calendars with ticketing, secure membership access, photo galleries and more.
We work with all WordPress themes and we have extensive experience with Avada, Bridge, Divi, Jupiter, Gem, The7, Flatsome and Porto.
We also offer other essential WordPress Services to help your website succeed and to keep your website's visitor experience safe:
WordPress theme changes
WordPress plugins
Add on e-commerce and other functionality