Learn the importance of keeping your Google Business Profile updated and how it can boost your online success!
When a business shows up in Google Business local search results, it means that Google recognizes the business as relevant and trustworthy for a specific geographic area. Google's local search results aim to provide users with accurate and valuable information about businesses near their location or a specified area.
Businesses that have a well-optimized and actively managed Google Business profile are more likely to appear in these local search results and reach potential customers in their area.
1. Stay on Top with Local Searches
When people search for businesses like yours, you want to be front and center in The Google Local Pack, Google Maps and Google Assistant Voice Search. By regularly updating your Google Business profile with accurate info, you'll rank higher in local searches. It's like putting your best foot forward and getting noticed by the right crowd!
✅ First, make sure your business has a claimed profile. Then, regularly update your Google Business profile with accurate and up-to-date information about your business hours, contact details, and location. Review and refresh your profile every month, ensuring it reflects your current operations.
2. Build Trust, One Update at a Time
Customers value transparency, and an updated profile shows that you're in the game. By providing current information, you build trust with your audience. It's about being reliable and approachable—a winning combo that can impress potential customers.
✅ Showcase your commitment to customer service by responding promptly to customer reviews and inquiries. A friendly and responsive approach builds trust and reliability.

3. Keep 'Em in the Loop with Updates
Customers love to see what's happening behind the scenes! Share exciting news, fresh offers, or upcoming events through regular updates. It's a fantastic way to engage your audience and give them a reason to keep checking in.
✅ Plan a content calendar for your profile updates, covering announcements, events, new products or services, and company news. Use a mix of engaging visuals and compelling copy to capture your audience's attention and also include keyword phrases.

4. Harness Positive Reviews
When your Google has favorable reviews from satisfied customers, it signals to Google that your business is credible and trustworthy. This, in turn, can boost your visibility in local search results, including the local 3-pack, making it easier for potential customers to find you. The more positive reviews you have, the better your chances of ranking higher in local search listings.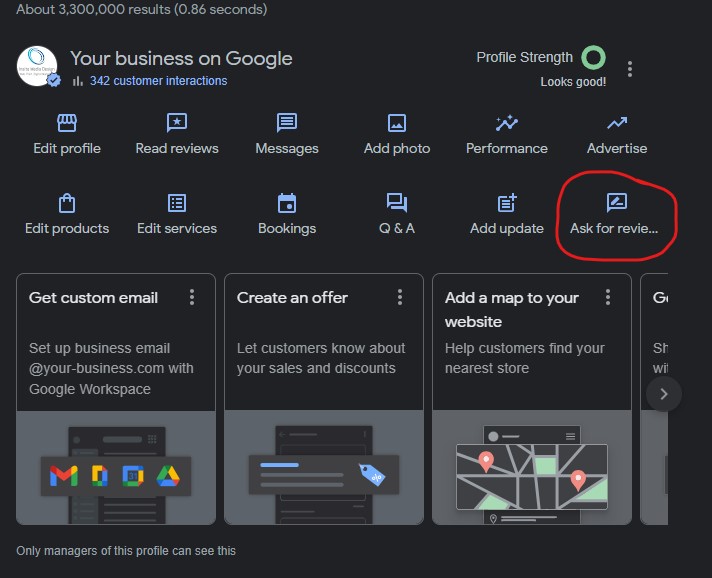 ✅ To make the most of this opportunity, reach out to your satisfied customers and ask for their reviews. By doing so, you'll build a stronger online reputation and attract a consistent stream of organic traffic to your thriving business. You'll find your Google review link in your Google Business Manager: refer to the above image.
5. Smooth Customer Experience
A well-maintained profile means hassle-free interaction for your customers. They can then easily find your location, get in touch, or explore your website. It's all about making their journey pleasant and seamless!
✅ Regularly check your profile's information, ensuring that all information is up to date.

6. Stay Ahead of Competitors
Keeping an eye on your competitors' Google Business profiles can provide valuable insights and opportunities for your own business. The goal is not to copy your competitors but to gain insights that can help you refine your own business strategy and improve your overall performance.
✅ Pay attention to your competitors' reviews. This can give you an understanding of what customers appreciate and what they find lacking in your their products or services. You can also stay informed about their new products, services, or promotions. Also, monitor any updates or changes in your competitors' profiles. For example, if they are expanding to new locations or introducing new services and products, it might indicate shifts in their business strategy, which could impact your own business.

7. Let Insite Media Design Lighten the Load
We get it—managing your business takes time and effort. That's why Insite Media Design is here to lend a helping hand. We'll handle your Google Business profile, so you can focus on what matters most—your business.
✅ Entrust your Google Business profile management to Insite Media Design. With our expertise, we'll optimize your profile, keep it updated, and manage your content strategy. You can focus on running your business while we handle the digital marketing side of things.

Conclusion
Updating your Google Business profile isn't a chore; it's a game-changer! It's about being present, relevant, and reliable in the eyes of your customers. So, embrace the power of a claimed Google Business Profile with regular updates, and let your online presence soar. Whether it's soaring in local searches, building trust, or engaging your audience, an updated profile can work wonders for your business.